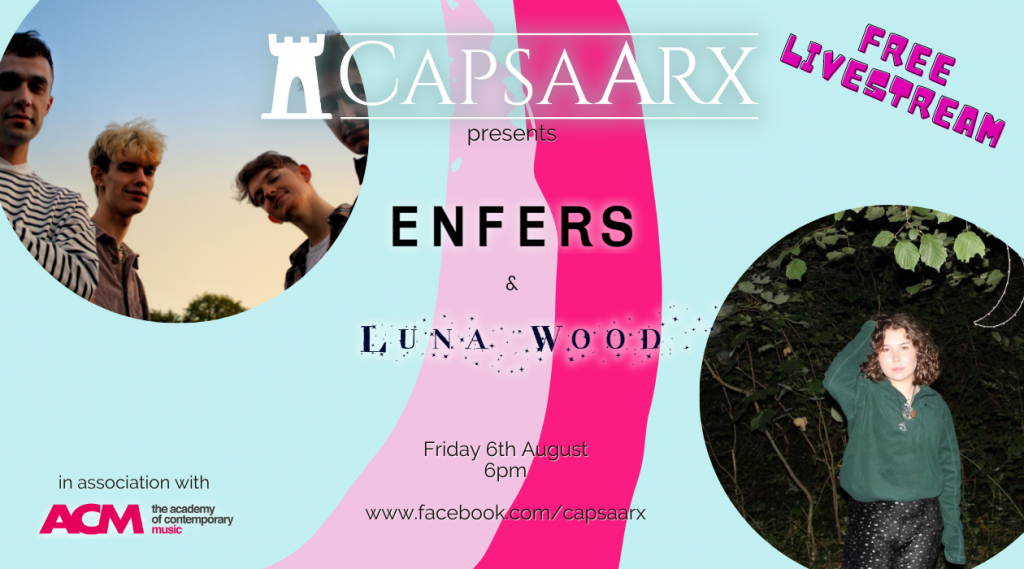 We're pleased to announce our latest facebook livestream show on Friday 6th August at 6pm!
We have been working in partnership with ACM to showcase some of the best new talent and give new artists a platform to perform with our ACM Livestream Sessions. 
Our next show will be a double feature, with serene sounds and poetic words from Luna Wood who will be performing her Debut EP 'Night to Day'. As well as 80's-esque contemporary pop Enfers who will be bringing strong melodic tracks from their upcoming, self-produced Debut EP 'Come When They Call Labour'.
The livestream is completely free and you can RSVP to the event as well as check out the artists with the links below:
RSVP to the official facebook event here
Enfers
Facebook | https://www.facebook.com/enfersband/
Instagram | https://www.instagram.com/enfersband
Debut Single 'Awake' | https://open.spotify.com/track/30isDAkPSsJUMNzjwdeHlz?si=ad1e755f463c448f
Luna Wood
Facebook | https://www.facebook.com/lunawoodmusic
Instagram | https://www.instagram.com/lunawoodmusic/
'Home Again' | https://open.spotify.com/track/4Ce6TRYoaMHENWsAYMxhxS?si=28db5c017d434eda