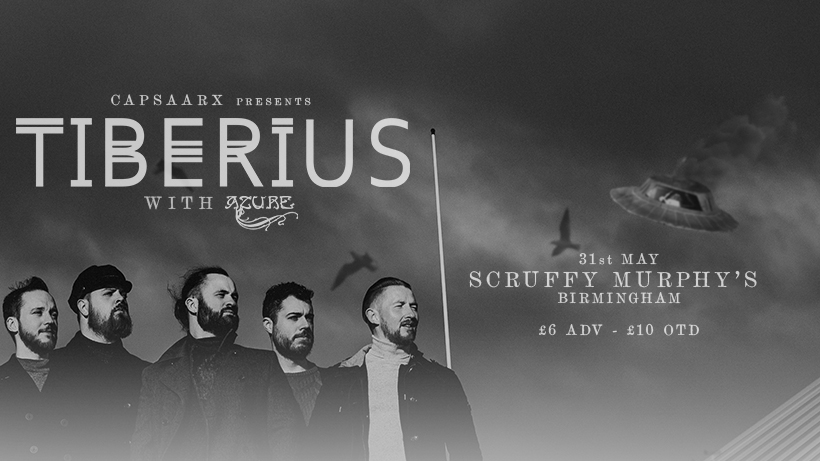 Scottish Progressive Metal Band Tiberius have joined Azure to bring their live show to the home of metal here in Birmingham.

You can catch Tiberius, Azure plus supports to be announced on Tuesday 31st May 2022 at Scruffy Murphy's.
Tickets are just £6 adv and £10 on the door.
Capacity is limited, so be sure to book in advance to avoid missing out on this stellar lineup.
RSVP to the official Facebook Event
Tiberius – Catchy Progressive Metal from Scotland
Awarded "Best Metal Act" in 2017 by the Scottish Alternative Music Awards, Tiberius have been quickly establishing themselves as a popular alternative to what is expected from the metal genre. Writing tongue-in-cheek songs that shed light on global and personal struggles, the band have carved out a niche position for themselves which emphasizes the personalities of the men behind the music and has seen them support heavyweights such as The Contortionist and Twelve Foot Ninja, as well as securing a main stage slot at UK Tech Fest.
Azure – Progressive Metal from Brighton
Azure is a high energy, melody-driven prog band from Brighton, UK. The band had a busy year in 2021, releasing not only the frantic, yet succinct standalone single 'Mistress' in February, but also their full length sophomore album 'Of Brine And Angel's Beaks' in June. Known for flamboyant and emotive vocals, virtuosic guitar playing, and their exhilarating rhythm section, this high-output band shows no signs of slowing down – 2022 looks to be a promising year.