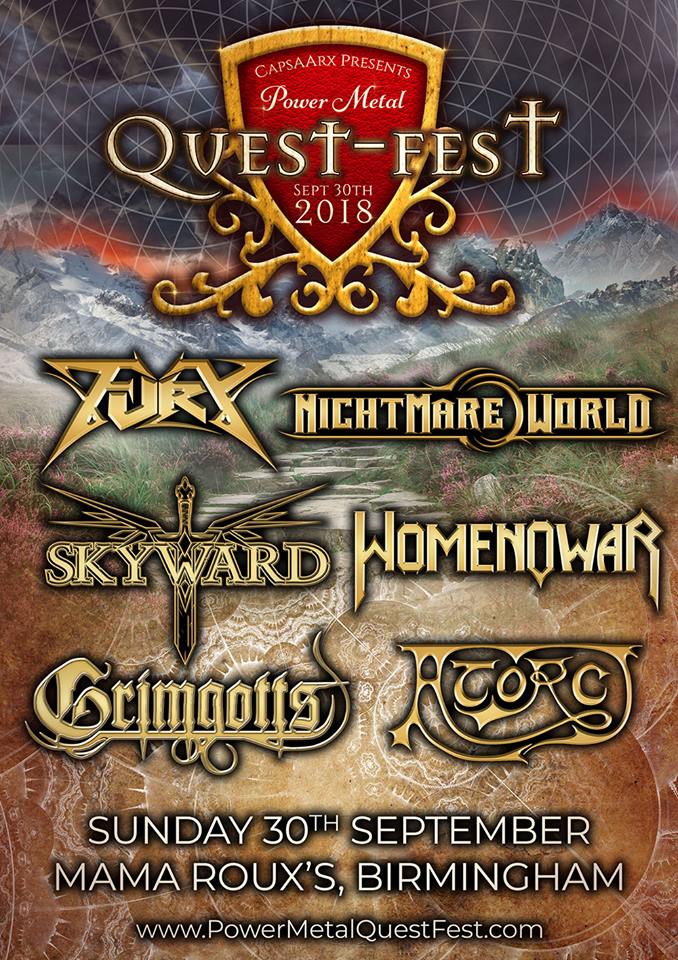 This year Power Metal Quest Festival returns for it's second year. Those of you that attended last year, will know that we had a huge success with this event and we are incredibly excited to be putting it on for a second year.
The lineup so far is already shaping up make for an absolutely awesome evening of some of the best Power/Prog and Heavy Metal infused acts in the country.
This year will be held at Mama Roux's in Digbeth Birmingham on Sunday 30th September 2018.
The lineup so far – with more to be announced includes:
Intergalactic Heavy Metal crusaders Fury.
Powerful and dynamic Heavy Metallers Nightmare World – featuring vocals from Threshold/My Soliloquy's Pete Morten.
All female Manowar tribute band Womenowar.
Symphonic Harry Potter enthused Power Metal Adventurers Grimgotts.
Fast paced Power Metal Quintet Skyward UK.
Battle hardened Folk Metal warriors Atorc.
Tickets are just £15 and can be purchased from the Power Metal Quest Fest Website
Tickets: https://powermetalquestfest.com/product/quest-fest-2018-standard-ticket/
T-Shirt & Ticket Bundle: https://powermetalquestfest.com/product/quest-fest-2018-ticket-t-shirt-bundle/
Official Event: https://www.facebook.com/events/410200599419536/